How business-grade mobile solutions help make teams more productive and costs more predictable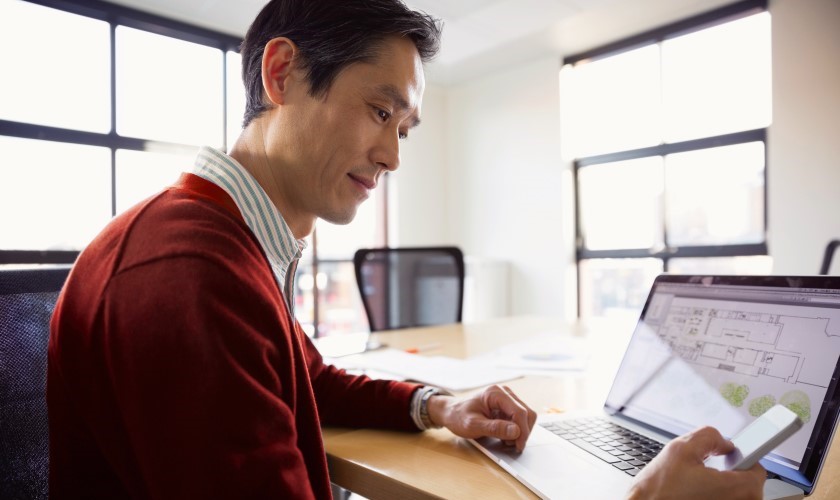 Canadian business is transforming digitally. Capabilities for accessing and sharing information continue to evolve, and it's changing the way businesses stay connected to their customers, vendors and each other.
More teams are realizing the benefits of a connected workplace, from virtual conferencing technology to cloud-based collaboration tools and everything in-between. And, as 5G networks continue to roll out across Canada, it's increasingly important to ensure your teams are empowered with the right tools to adapt—whether they're working in the office or outside of it.
To equip employees with the tools they need to stay connected, businesses need more data. Leading the way with business-grade mobile solutions, Rogers provides plans with a variety of options that empower teams to share data across devices and enjoy an unlimited data plan, enabling them to adjust as business needs evolve. Finding the right plan and features for your business starts with understanding what's available. Here's a look at the benefits to going unlimited.
Predictable costs with flexible options
Keeping track of individual data usage can mean needless administration; however, buying a wireless plan that's bigger than your needs can be wasteful.
Instead, choose a plan you can share and that suits your team's needs now and over time. Rogers for Business for example, has plans that give your employees unlimited data, so they never need to worry about overages. But unlimited data doesn't have to come at a premium price: you can choose the amount of max speed data to fit each employee's needs. To make sure you get the most out of every plan, your employees share that max speed amount in the same data pool, regardless of size. This means everyone has the data and speed they need instead of one large plan geared to heavy users. As needs change, pooled data protects your business from unexpected spikes in usage.
Looking to the future, 5G networks are enabling even more opportunities for collaboration and customer support through video, AR and VR, increasing the need for data. Unlimited data comes with up to 50GB/user of max speed data (with reduced speeds thereafter). But with options to pool your max speed data to share across your teams and their devices, your power users will stay happy and your costs will remain consistent, setting your business up for success. Get 5G access at no extra charge until March 2021.
Stay agile and employee-friendly by moving infrastructure to the cloud
The pace of technology change is causing people to reconsider long term investments in on-site hardware. Some companies struggle to find replacement parts for aging systems and other have a mix of employees with a mix of communications needs: some still rely on a desk phone whereas others prefer to take calls on their smartphone.
Rogers UnisonTM let's companies and employees enjoy the best of both worlds. By moving telephony infrastructure to the cloud, your business phone system stays up to date automatically. And employees get the same great features on the device they like best: A desk phone, a smartphone—or even a PC or tablet.
Be future-ready
5G speeds are coming, and more data will be needed for businesses to harness the new opportunities for collaboration and productivity. The coming of 5G is also why many companies are looking to Rogers for business-grade mobile solutions and network innovation. From the first cellphone call in Canada to Canada's first LTE network and now its first 5G network, Rogers for Business provides the digital communications future for companies of all sizes.
Check out Rogers Business Wireless Plans to find the right options for your business.