Maximize productivity and safeguard sensitive communications across all mobile devices and operating systems.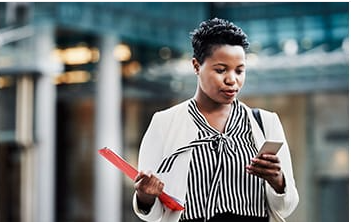 Secure mobility made easy
It's now easier than ever to enable productive mobile experiences while also protecting your data. Rogers Enterprise Mobility Management (EMM) solutions offer simple, cost-effective, end-to-end management of applications and devices. This includes smartphones, tablets, laptops, desktops, servers, wearable technology and more.
Our solutions also enhance security, letting your staff work anywhere or from any device, securely. Because EMM isn't carrier-specific, you can even manage devices connected to the networks of other providers. Plus, your IT resources can focus on the business instead of worrying about managing multiple devices, platforms and operating systems.
EMM from Rogers can include:
Mobile Device Management (MDM)
Optimize each device's functionality and security using a variety of easy-to-use administrative features
Unified Endpoint Management (UEM)
Keep your focus on your business, rather than your IT, with management and monitoring of servers, desktops, networks and more
Mobile Identity Management (MIM)
Add an extra layer of security by providing different levels of authentication for each user
Mobile Application Management (MAM)
Ensure your employees are working optimally and securely by controlling which apps can be accessed on each device and ensuring that the latest version of each app is always available
Mobile Security Management (MSM)
Further protect sensitive content via alerts of emerging mobile concerns and threat analytics
Mobile Content Management (MCM)
Protect sensitive information by determining which content can be accessed and distributed by employees. Also known as Mobile Information Management
Why Choose EMM with Rogers?

Professional Services. Streamline deployment with a range of services, including migration, policy configuration, solution setup, device provisioning and on-demand incident support.

Onboarding Services. Ensure your business adopts your EMM solution smoothly with minimal effort. We're here to gather requirements and specs, configure user profiles, activate devices, oversee enrollment and rollout, and conduct admin and end-user training when needed.

Managed Services. No need to watch for upgrades, perform environment checks or conduct disaster recovery. We can do it all for you, and we provide Level 2 and 3 support.

End-to-End Management. Eliminate the need to hire extra staff. We build your EMM solution from start to finish.


Cloud Hosting. Improve efficiency and delivery while also reducing costs. Our cloud hosting option includes server health checks, platform management and updates. On-premises hosting is also available.

One-Time Device Setup. Keep IT focused on your core business regardless of the specific EMM solution you enroll in. Each one can be provisioned easily, either manually or over the air.
Our solutions team
We work with the best of the best. Let's talk about your needs and find out what solution makes the most sense for your needs.
BlackBerry® Spark
Manage all your IT endpoints with the highest level of visibility and security. The BlackBerry Spark Suite uses artificial intelligence, machine learning and automation to provide leading cyberthreat prevention and remediation. Available with a range of solutions, the BlackBerry Spark Suite combines Unified Endpoint Management (UEM) and Unified Endpoint Security (UES) to provide one view of all endpoints to ensure security and productivity.
BlackBerry® AtHoc Crisis Communications System
Ensuring that your critical communications and emergency management strategy is seamless, secure, and real-time during serious incidents.
BlackBerry® AtHoc provides a comprehensive emergency mass notification system used by government, military, and commercial organizations worldwide to provide physical security, workforce protection, and personnel accountability in times of crisis.
Rogers is the first and only Canadian telecom provider with an Emerald Solution Provider Certification, the highest certification tier. Our in-house expertise runs all licensing management, professional services and tech support, while allowing you the option to move from an upfront capital investment to an operational expense billed monthly alongside your Rogers wireless services.
Transform Business with Comprehensive Enterprise Mobility Management
VMware Workspace ONE offers a full suite of EMM tools to simplify your mobility program and digital workspace environment.
VMware Workspace ONE Express is mobile device management made simple. As the first telecom to offer Workspace ONE Express, Rogers will help get you up and running in minutes with a simple, cloud-based MDM solution featuring worry-free security without software:
•    Easily configure your devices with apps, email and Wi-Fi
•    Protect your data with restrictions and remote lock + wipe
VMware Workspace ONE™ UEM is an intelligence-driven digital workspace platform that simply and securely delivers and manages any app on any device by integrating access control, application management and multi-platform endpoint management. Drastically improve experiences and tasks that were previously costly, time consuming, and resource intensive:  
•    Onboard a new employee with all of his or her apps and devices in under an hour without tickets and help desk calls
•    Set and enforce access and data policies across all apps, devices, and locations in one place
•    Complete business processes from a mobile device, similar to consumer experiences
•    Provision a new corporate laptop out of the box, almost anywhere in the world, from the cloud within minutes
•    Get insights and automation capabilities across your entire digital workspace environment
Rogers is the first and only Canadian telecom provider to fully support your VMware solutions end to end. Our in-house expertise runs all licensing management, professional services and tech support, while allowing you the option to move from an upfront capital investment to an operational expense billed monthly alongside your Rogers wireless services.
Meet your data protection needs while delivering the best user experience
Empower your users to work anywhere with mobile device and application management, identity and access management, advanced security and information protection. Microsoft® Enterprise Mobility + Security (EMS) helps you control identity and access in the cloud, get identity-driven security, manage mobile devices and apps, virtualize your desktops, and protect your information.
Rogers provides Level 2 support from day one – direct access to a trained support agent – as well as having your EMM and Rogers wireless services under a single bill.
A secure device gives your staff freedom to work how, where, and when they want
Samsung Knox consists of a highly secure platform built into Samsung devices and a set of solutions that leverage this platform. Knox lets you remotely manage business smartphones while keeping personal and corporate data separate.
Rogers provides you the option to move from an upfront capital investment to an operational expense billed monthly alongside your Rogers wireless services.
Improve the performance and security of your mobile enterprise, while increasing visibility and control.
NetMotion® offers a mobile VPN solution that helps boost your employee productivity with application persistence, providing a seamless connection to all platforms and devices and reducing chokepoints. Whether your people are regularly roaming between networks, traveling to rural or remote locations or working in traffic dense areas, NetMotion lets you optimize traffic and keep mobile workers connected.
NetMotion also enables IT administrators with advanced controls as well as real time and historical reporting. Enforce compliance and security with tools that allow you to monitor, block and investigate any device, network and corporate server and mitigate potential security threats.
Through our partnership with NetMotion, we offer the widest range of licensing options in Canada to meet your organization's needs, and only Rogers provides the convenience of one bill for both your NetMotion and Rogers services.
NetMotion® is a registered trademark of NetMotion Software, Inc.