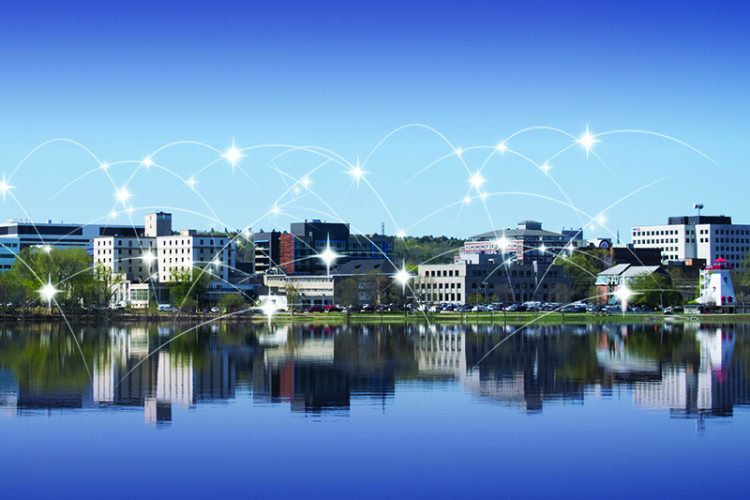 Each generation of wireless networks has revolutionized the way we communicate. While 1G allowed for wireless analogue phone calls, 2G went digital, introducing the world to texting. 3G made web-browsing and file-sharing possible, while 4G is what enables connectivity for smartphones, tablets and laptops.
However, the significance of 5G is still a mystery to some. Many believe it's simply about faster internet access and greater coverage than 4G, but it will be about much more than that. 5G will provide better coverage, faster speeds, and real-time responsiveness due to ultra low latency. In fact, 5G represents perhaps the biggest leap forward so far, promising to usher in a new era of technologies and solutions that won't just impact how we communicate with each other, but how we communicate with machines—and how machines communicate with each other.
Nowhere is this more apparent than in the business world and the public sector where the applications of 5G are virtually limitless, helping drive significantly greater productivity and cutting-edge technologies.
The use case possibilities with 5G are endless – from network slicing to giving first responders a dedicated network, to using virtual reality that enhances the retail customer experience, smart city solutions, remote surgery, patient monitoring and so much more.
In 2020, Rogers became the first carrier to roll out 5G in Canada, powered by Ericsson, and is now Canada's largest 5G network, reaching over 130 cities and towns. But as far back as 2017, Rogers entered into an innovation partnership with the City of Fredericton as part of the company's ongoing journey to deliver Canadians the best in wireless technology and to support Fredericton's smart city efforts like using sensors to collect data, which delivers an enhanced citizen experience. Outcomes for any smart city would include improved traffic flow, faster arrival of first responders, better waste management and so much more.
On September 24th, Rogers launched 5G in Fredericton, making it the first 5G-enabled city in the Atlantic region as well as Atlantic Canada's 5G centre of innovation—a critical step in the city's digital evolution, which began in the 1990s with a municipally-owned fibre optic network and Canada's first free Wi-Fi network. The Rogers 5G network will advance Fredericton's Civic Innovation initiatives, including a LPWA (Low-Power Wide-Area network) using IoT (Internet of Things) sensors to collect data and monitor in real time situations such as springtime flooding.
"Through the engagement of ecosystem partners, the city formed the Fredericton Innovation Partnership to collectively work towards a vision of becoming Atlantic Canada's 5G Centre of Innovation," says Laurie Guthrie, Civic Innovation Strategist for the City of Fredericton. In addition to Rogers, the partnership includes Ignite Fredericton, the University of New Brunswick's Technology Management & Entrepreneurship program, New Brunswick Community College, and the Canadian Institute for Cybersecurity. "We envision 5G having a tremendous impact through the development of new, robust edge applications and solutions, and cultivating skilled talent here in Fredericton. Already, we're considering the possible use cases in our living lab for civic innovation."
"The 5G Innovation Lab at Cyber Centre is a perfect example of the cybersecurity leadership that CyberNB was established for," says Larry Shaw, CEO of Ignite Fredericton and Knowledge Park. CyberNB, a non-profit that fosters cybersecurity innovation, research and collaboration among governments, businesses and academia, runs the lab. "5G wireless service will enable significant growth in IoT connectivity of which cybersecurity will be a critical element," Shaw adds. "CyberNB is developing critical partnerships and leadership, with Rogers in collaboration, to protect critical infrastructure."
Wireless industry investments in 5G networks are expected to contribute an estimated $40 billion to Canada's economy and create an estimated 250,000 permanent new jobs by 2026. Rogers alone has invested over $30 billion in the past 35 years to build Canada's most trusted and reliable wireless network. In 2020, the company was awarded the best wireless network in Canada for the second year in a row by umlaut, the global leader in mobile network testing and benchmarking.
"As we expand into Fredericton, over time our 5G technology will transform the way we live, work, and do business in New Brunswick," said Matt MacLellan, President of Atlantic Region, Rogers Communications. "Strong digital infrastructure and this next-generation technology are critical to fuel productivity and innovation, and Rogers is proud to be part of Fredericton and Atlantic Canada's digital evolution." •