No matter what kind of phone you use, seamlessly stay connected to your customers, clients and team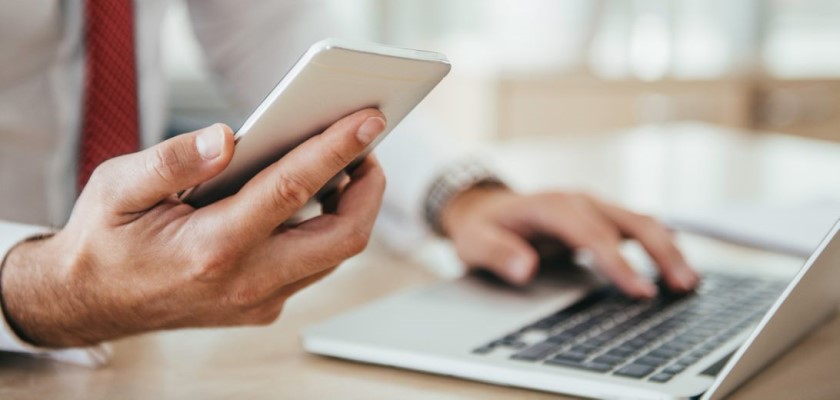 As a small-business owner, being reachable via phone – whether by customers or colleagues – is a necessity. And having a cloud-based communication system in place for you and your team means calls to your business are always answered efficiently and professionally, no matter where your work might take you. You can stay connected on the device(s) of your choice, and callers enjoy an enhanced experience when they dial your number.
Ideal for mobile businesses that rely on wireless devices, a cloud-based, truly mobile communication system is equally beneficial to – and easy to use by – companies using desktop phones, softphones or a combination thereof. Here's how.
1. Use it with your mobile phone
With a cloud-based communication system, you and your team can stay in touch on the go, wherever you are, using your mobile devices. A "hunt groups" feature can route calls from one team member to the next until a call is answered, and the system can also be set to ring all staff phones simultaneously so that callers are never left languishing on hold or bouncing around from voicemail to voicemail. And you can create a local phone number for your device when you're expanding into a new region, so that your calls will appear local to businesses there.
2. Use it with your desktop phone
A traditional desktop-phone system can be complex, and learning how to use one can be a challenge. As well, it's only useful when someone is sitting at the desk. Not so with a cloud-based communication system, which is easy to implement and use and allows you to manage incoming calls to your team's desktop phones remotely. The system can provide a "virtual receptionist," which is an automated answering feature that will answer and direct calls, creating a professional impression for callers and ensuring calls reach the right person in your business. No need to hire additional staff or hold training sessions, either – your system has you covered.
3. Use it with your softphone
A "softphone" means you can make, receive and transfer calls using desktop computers, laptops and tablets. And with a cloud-based communication system in place, you can also manage (i.e., answer and direct) incoming calls directly via a computer, and even monitor the status of all calls on/to mobile devices, desktop phones and/or softphones. The system also lets you transition calls between your softphone and wireless device(s), and vice versa, so that you never have to hang up and redial should you choose to switch devices mid-conversation.
4. Use it with all your phones
A cloud-based system gives you and your team the freedom and flexibility to use smartphones, desktop phones and/or softphones to stay in touch with your clients, suppliers, customers and each other. Regardless of the type of phone you use, having a cloud-based communication system means you'll also enjoy features such as team voicemail (so callers can leave messages accessible by all team members) and music on hold (to keep callers entertained if you need to place them on hold) on all devices.
With a communication system that is at once truly mobile and adaptable to many different use cases, you and your team can communicate the way you want, on the devices you prefer, no matter where you are.