Turning to a mobile-first business phone solution can help your business manage change and prepare for the future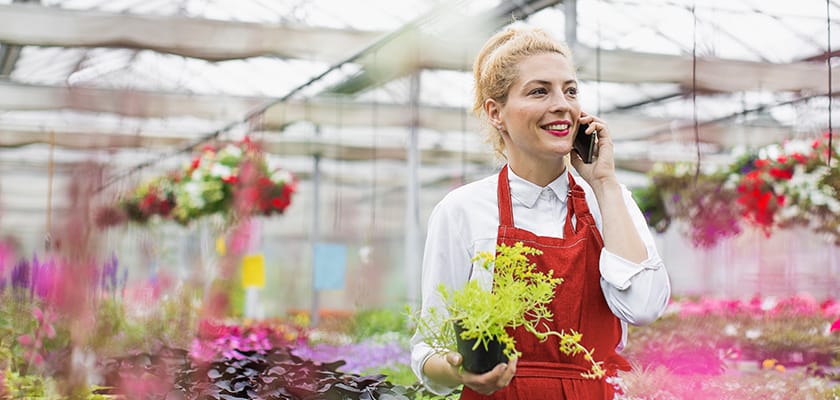 The COVID-19 pandemic has had a dramatic impact on businesses of all sizes. Businesses deemed essential services that have remained open as well as those now reopening are not only looking for new ways to meet their customers' needs, but also for opportunities to find efficiencies.
Indeed, today's circumstances are changing the way businesses run. To continue to move forward, many businesses have adapted, moving to virtual offices, online storefronts for customer support and transactions, curbside pickup and new forms of delivery.
Central to coordinating these new business operations is effective communication, which has more businesses seeking a cloud-based phone solution with more sophisticated business features.
Having the right technology in place to keep both customers and employees connected is essential during this time where business is anything but usual. Whether your physical locations are open for business or you're running your operations virtually, a key component to managing successfully during this challenging time continues to be effective communications. Here are a few ways a mobile-first, cloud-based business phone system can keep lines of communication running smoothly, both during this pandemic and beyond.
Make sure you're always within reach
While the way you operate your business might have changed, your need to connect with customers remains the same. As such, it's important to make sure that your team works together as they respond to customer inquiries. When the office is closed, an answering machine can only do so much.
Using a feature like Hunt Groups can ensure you never miss a customer call or keep a prospective client waiting on hold. This feature of Rogers Unison automatically routes incoming calls between team members until they're answered, ensuring your team is always within reach. Your team can pick up calls on their mobile device, laptop or desk phone, using a single number.
Consider an independent grocery store or garden centre that's offering curbside pickup and asks customers to phone the business upon arrival. Knowing when a customer has arrived to retrieve pre-ordered purchases allows for a quick handoff, eliminates a traffic bottleneck in front of the business and speeds up the process for both the customer and the business.
Direct calls automatically to keep your business moving forward
When business hours are condensed and operations have potentially shrunk, it's not always feasible to have a receptionist sitting at a desk every day fielding incoming calls. Yet, it's still critical that all calls are answered and questions addressed. An automated answering system, such as Auto Attendant, greets callers and connects them to the right person quickly and efficiently.
Take, for example, a veterinarian clinic. For a small practice it might not be feasible to have someone sitting at the front desk during limited hours and may expose them to potential health threats. Auto Attendant can solve this problem by directing a worried pet owner's call to an onsite or offsite staff member who can assess, provide advice or book an appointment.
Turn voicemail into black and white answers
During times when you can't answer a customer call, you can shrink the lag time in meeting their needs by using a feature like Voicemail to Email. This feature automatically transcribes and attaches an audio file of the customer's message and sends it directly to your email, so you can act on it quickly and have accurate information at your fingertips.
For a restaurant doing pickup and delivery service, for example, the ability to read back an order from an email when confirming with a customer can ensure there are no costly errors due to miscommunications during food preparation or delivery.
While business has changed as a result of COVID-19, staying available and accessible to customers has remained constant and will continue to be vital even after the pandemic is over and businesses resumes.  New challenges will need new solutions, and with the right technology your business is better equipped to adapt now and down the road.