Learn how tens of thousands of Rogers employees successfully switched from Skype to Microsoft Teams in just five weeks.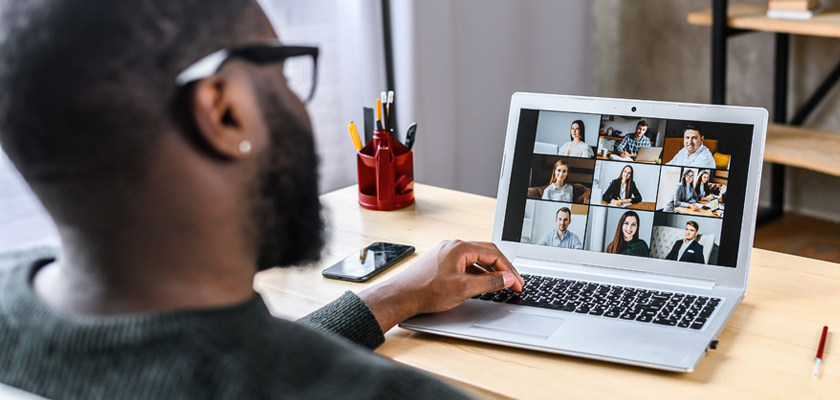 "There were a couple of weeks where we migrated 4,000 users a week." Manny Badwal, Senior Manager of Unified Communications at Rogers Communications, recalls the break-neck pace at which his team had to move more than 20,000 Rogers employees over from Skype for Business to Microsoft Teams with Business Voice early on during the coronavirus pandemic.
"We gave him these wild targets," says Kumar Kandasamy, Senior Director of IT Services at Rogers Communications, "and he came through."
And while the key driver for the speed of the migration was everyone suddenly working from home, it was hardly the only reason for the switch. And with so many Skype replacements on the market, choosing the right one was critical for not just preserving, but potentially increasing the productivity of the Rogers workforce.
Challenge
"Skype was getting old in a lot of ways," says Kumar. "Video and audio quality was degrading noticeably since late 2017. And the collaboration features weren't necessarily as robust as they could be. We've had issues with the reliability of screensharing and its integration with the rest of the Microsoft 365 suite."
Behind the scenes, infrastructure was becoming an issue as well. With Microsoft in the midst of sunsetting Skype, vendor support was coming to an end. And on top of that, Rogers was hosting Skype in one of its data centres—a situation that came with its own risks and challenges. "When you're dependent on data centres, if that data centre goes down, a significant portion of your population is down, and we had a few instances of that," says Kumar.
With the sudden shift to working from home, these issues only compounded the fact that collaboration across the organization needed to be better—and fast. Even some leaders who weren't enthusiastic about moving away from a solution everyone had gotten so used to started to come around. "The early days of the pandemic highlighted for leadership that we needed a solid unified-communications platform to enable consistent and reliable work capabilities," says Kumar. "We made it our focus to up our game in terms of calling, conferencing, and collaboration."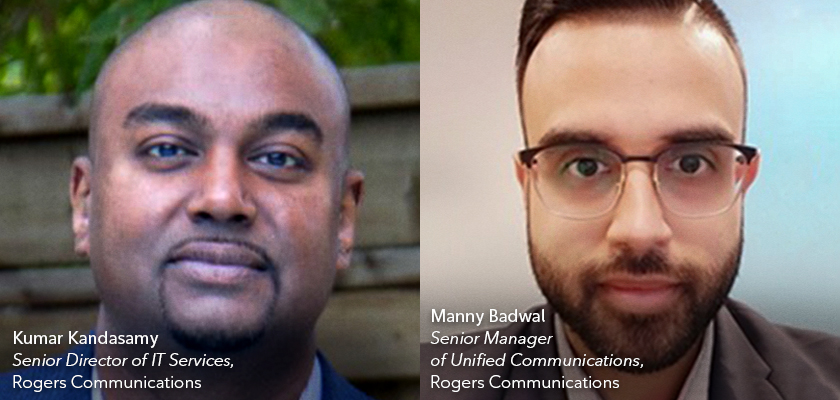 Solution
"We came to the conclusion that Teams was right for us," says Kumar. Microsoft Teams is a communications hub within Microsoft 365 that unifies features such as meetings and chat. With Business Voice, calling is added to Teams, centralizing practically every communication need an organization would have.
"Teams gives you that interactive experience, with your team and the rest of the population," says Manny. "It allows you to integrate the rest of Microsoft 365 within Teams so you can more efficiently collaborate amongst your peers, and be more interactive in a remote setting." These improved collaboration features include a nine-box (instead of a four-box) view of participants (with the long-term goal being a 49-box view), the popular "raise your hand" feature, which allows participants to let everyone know they have something to say without interrupting the current speaker, and "together mode," which creates a shared background to make participants feel like they're all in the same room.
In addition to better collaboration features, Microsoft Teams with Business Voice, being part of Microsoft 365, is hosted in Microsoft's cloud, eliminating the uncertainty, maintenance, and costs that came with Skype being hosted in a data centre. "Moving to the cloud has been good for us because it really takes those elements out of the mix," says Kumar.
However, one of the most important benefits of Microsoft Teams with Business Voice is its easy integration with other Microsoft solutions as opposed to similar solutions by other companies. "There's always some element of Microsoft," says Kumar referring to the ubiquity of Microsoft programs in the business world. "If we wanted to link to SharePoint or OneDrive with one of the other options on the market, it would be a clunky experience. You still need to have some level of Microsoft. So, having one seamless, centralized experience that meets everyone's collaboration needs was imperative. We also really wanted to get away from the multi-vendor experience with its multiple deployments because it creates a lot more hops and a lot more issues when you're troubleshooting."
In terms of the migration itself, Microsoft support was crucial to accomplishing such aggressive goals. "We were averaging about 3,500 users per week," says Kumar, "and we only migrated on Friday nights because the process took about 24 to 48 hours and we didn't want users to have a bad experience come Monday."
Unfortunately, migration initially took one minute per user—far too long. That's where Microsoft stepped in to help. "We worked with Microsoft engineers and got our timing down to between five and ten seconds per user," says Manny, "It was because of that that we were able to expand our migration batches from 2,000 to more than 4,000 a week."
Another key aspect to a successful migration was ensuring all Rogers support teams were able to handle the operational workload at the start of every week. To manage that, Manny set up war rooms three times a week using Teams itself to further solidify confidence in the new solution. "We created that central point where users would raise concerns and issues for our Tier 1 and Tier 2 support teams, and we could answer them right away. So, we still leverage that today."
Results
The Teams war room that Manny started is now used for a variety of non-migration issues. "One of the great things about Teams is that, because there's persistent chat and history of all the conversations, we don't need to initiate anybody into what's been going on," he says. "They can look back at the history and at the files, and they can see who uploaded what. So, it's been a productivity godsend."
User feedback has also been highly positive. "Based on our daily automated surveys, 68% told us that the reliability and quality of audio and video are significantly better," says Kumar, "and according to our last employee engagement survey, 79% said that they now have the tools to do their jobs effectively now and into the future." Kumar also highlights how Teams continues to impress the Rogers workforce with a growing list of functionalities and features, and how that's reflected on his team and on Microsoft as a vendor. "On almost a weekly basis, we're seeing new things pop up in Teams," he says. "It makes people feel like we're listening and that Microsoft's listening, and that goes a long way."
Now that Teams has become the new norm, the Rogers workforce seems eager to see what else is on the horizon. "We've convinced hearts and minds now that this was the right way to go," says Kumar. "Now that we've dealt with calling and conferencing, they want to explore the power of Teams. What can we leverage to do more app integrations so that people never need to leave the Teams hub to deal with other applications? And how can we start leveraging the power of the built-in AI and workflow automation to make you more productive? This is the big focus for the year: How we can make Teams the ultimate hub not only for collaboration, calling and conferencing, but for productivity as well."