How to get the most from your connected devices and your mobile workforce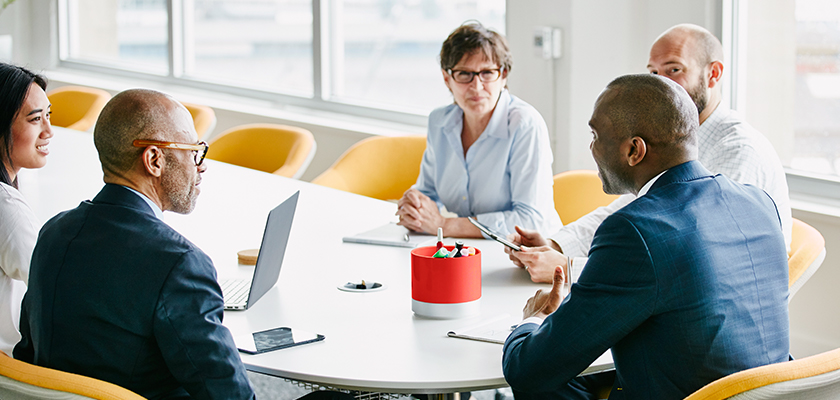 The steady growth of mobile workforces in many small and medium-sized businesses (SMBs) has resulted in a greater need for access to company resources anytime, anywhere and from any device. To meet these growing needs with greater control and security, many businesses are implementing Rogers Enterprise Mobility Management (EMM).
Did you know the benefits of mobility management reach beyond securely connecting mobile devices? In fact, when a mobility management solution meets a business's needs, it can add value in areas often overlooked. Here's how.
Boost productivity on every device
Smartphones, tablets, laptops, wearable technology and more are taking business to new places for many SMBs. Businesses optimizing the functionality and security of each device boost productivity for their mobile teams. This is why it is important to implement the aspects of your EMM solution that meet your business needs. For example, Mobile Device Management (MDM) provides a variety of easy to use administrative features, so businesses can manage, monitor, secure and support each team's devices, no matter where they are—even if the device is with a different carrier.
Consider customizing which apps can be accessed on each device so employees at all levels have access to the information they need. MDM helps ensure the latest approved version of each app is always available, so managers can be confident their mobile teams are connected, business information is secure and they have the flexibility to scale to meet their enterprise needs.
Free your teams to be innovative
The power of your mobile teams resides in their ability to solve daily business challenges together, no matter where they are. Connecting more employees on more devices inside or outside the office increases the opportunity for collaboration and innovation.
Often increases in connected devices are met with security concerns, and rightfully so, but it shouldn't hold a business back. In fact, solutions including  Mobile Identity management (MIM), give enterprises an extra layer of automatic security by providing different levels of authentication for each user, whether they're in the office or not. Plus, managers receive automatic alerts of emerging mobile concerns and threat analytics, so they always have a window into the security of their mobile teams and their devices. This kind of security gives teams the freedom to address business challenges where they happen, with the access to the information they need to solve them.
Stay client focused
The best organisations never stop finding ways to put their clients at the centre of their business. This focus shouldn't be limited to frontline customer service either. With more customer information being collected on more mobile devices every day, peace of mind is a value-add every customer can enjoy.
Rogers EMM offers Mobile Content Management (MCM) and is designed to protect sensitive information by determining which content can be accessed and distributed by employees. An important security step that safeguards sensitive information so employees can focus on their clients.
Rethink resource configuration
In a growing business everyone wears multiple hats, which can pull resources away from important business areas. The good news? The right enterprise mobility management solution shifts power back into the manager's hands to determine which tasks their employees focus on. Unified Endpoint Management (UEM), for example, manages and monitors servers, mobile devices, networks and more, enabling employees to focus on critical business rather than reactive IT administration and management.
Reduce costs
Resource requirements for mobility management are not limited to the IT department. Most SMBs don't have the time or resources to handle the broader areas of their mobility management—and they shouldn't have to. With a mobility management partner like Rogers, you can expect a team that streamlines deployment, manages inventory, ongoing migration and upgrades, end user support, plan optimization, corporate reporting and on-demand incident support. Businesses not only reduce the headache of mobility management, they also avoid the opportunity cost of being pulled away from the work that contributes to a healthy bottom line.
Getting the most value from your mobile devices starts with an enterprise solution that makes the best use of those devices and the mobile workforce using them.