A cloud-based communications system helps you do much more than simply answer a call.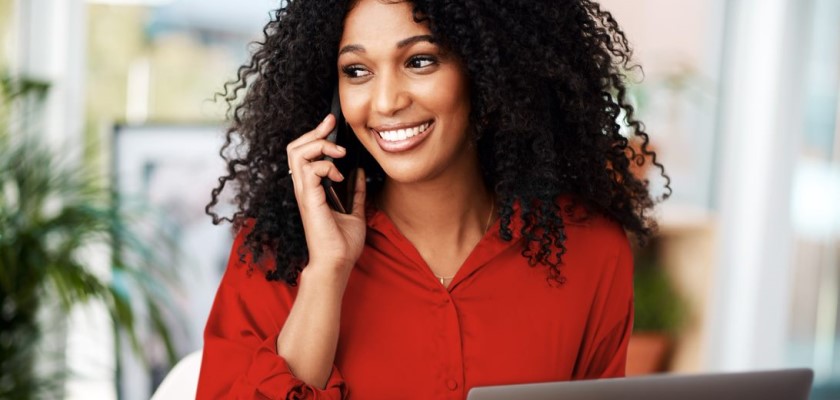 What do customers do when they have a question or concern? Very often, they call your business. And when they do, they want to speak to someone—not wait on hold or leave voicemail after voicemail. Quickly connecting customers to employees who can help them is essential for your business to succeed. How can you keep those lines of communication open?
Business phone systems have been around for decades, so you might assume they have nothing new to offer. But thanks to innovations in wireless communications and cloud computing, the humble office phone has been eclipsed by newer technologies that businesses would be wise to take advantage of.
Here's how a cloud-based communications system can help you keep customers satisfied:
Professionally direct calls
Just because you run a smaller business doesn't mean you can't offer a polished customer experience. Some systems include an auto attendant feature—a fully automated answering system that greets customers with your own customized message and directs them to the right destination. This friendly, efficient virtual receptionist is available every time and any time they call, without an office desk phone.
Cover all your bases
A cloud-based communications system offers impressive flexibility. If a customer calls and the person they're trying to reach isn't available, the system can re-route the call to other team members' phones until someone picks up. This hunt group feature saves your customers the hassle and irritation of getting voicemail or being put on hold, which isn't fun no matter how upbeat your on-hold music is.
Make each phone line work harder
You can also assign multiple phone numbers to one line, and add an existing desk phone number to a new device. Customers only need to know one number to reach you anywhere. And here's another useful feature offered by some systems: if you do business in other regions, you can choose numbers local to those areas—and, of course, add them to devices so that your business appears larger than it is.
Direct calls to many lines at once
Expecting an important call? A simultaneous ring feature puts calls through to multiple devices—such as desk phones, smartphones or softphones on desktop computers, laptops and tablets—at the same time. This gives your customers a better chance of reaching someone quickly.
Power up your call transfers
Gone are the days when you could only transfer calls from one extension to another. With a cloud-based system, calls can move seamlessly between your mobile and office phone, computer and tablet.
With these features and more, a cloud-based communications system is the ideal solution for businesses that strive to be flexible, efficient, responsive and mobile. Your customers will thank you.