How radios embraced technology for the modern workforce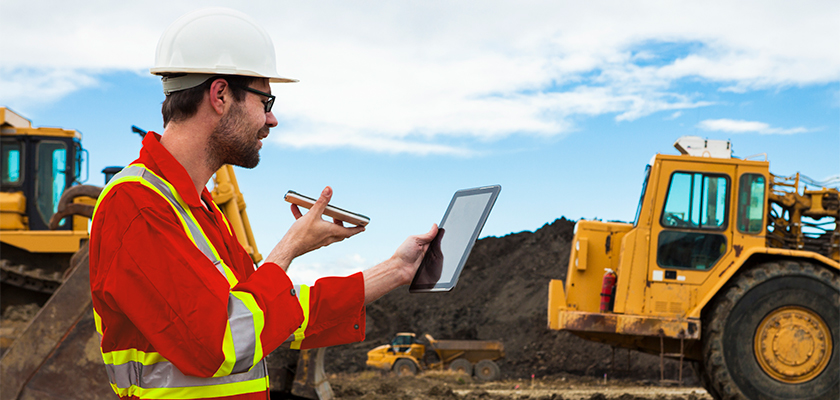 Communications technology is constantly advancing, but "push-to-talk" (PTT) has stood the test of time. As early as the 1950s, radios offered an instant connection between a central office and mobile workers for efficiency and safety. A lot has changed since then, most notably the combination of PTT voice services with cellular connectivity in the 1990s. And yet, PTT remains a vital communication tool in many industries, including construction, transportation, logistics and hospitality.
PTT continues to evolve, of course; it now integrates IP-based communication solutions, for example. To meet the needs of today's workforce, modern PTT services now combine the capabilities offered by mobile devices with radio systems. Let's take a look at how this creates tools better suited for communication in certain industries as well as the ability to configure these tools for specific industries and specific tasks.
Manage what matters 
At the centre of every modern PTT system is a task manager system. This central hub gives users the ability to easily manage multiple aspects of their operation, including managing inventory, tracking invoices and deliveries, or supervising employees. The task management feature is key to PTT and can prove particuarly important in the logistics and construction industries. For these industries, accurately monitoring inventory, invoices and employees is crucial for efficiency and can make the difference between success and failure.
With the PTT solutions from Rogers for Business, you can control task management capabilities with either manual or automated algorithms, and both provide real-time status updates and extensive reporting information. 
Task management can also dramatically improve efficiency in public transportation. While expanding on existing radio features, transportation companies could also integrate GPS Localization, improve communication between drivers, achieve greater dispatch control, and provide a better sense of security in dangerous situations. PTT task management significantly relieves drivers' burdens, allowing them to focus on the road and the task at hand. 
Safety above all else 
While most of us value being able to watch the backs of those we work alongside, not everyone is so fortunate. There are instances in which workers must do their job alone and but when direct supervision is not possible, maintaining health and safety is no less important. Across industries such as logistics, construction, natural resources, oil and gas, and hospitality, many workers often operate alone in potentially compromising situations. 
Modern PTT technollogy incorporates features that ensure workers can quickly and easily receive aid in the event of an injury or other dangerous situation. Lone Worker Protection serves as a personal alarm system for individual workers operating in potentially unsafe scenarios. For example, should an emergency situation arise, both the user and the device itself can update the network and provide an alert for all members on the PTT network. 
In PTT solutions from Rogers for Business, Lone Worker Protection offers a host of lifesaving features, including:  
Man Down: This will activate when it detects a fall and will send alerts to an emergency contact. This is particularly important for many working in construction and on oil rigs who may operate at great heights. 
Emergency Call: A feature that can be activated by a user in the event of a grievous accident or a dangerous situation. Once activated, this feature will send an immediate acoustic and visual alarm to the dispatcher.
No Movement Alarm: A GPS tracking feature that initiates an Emergency Call if a worker remains motionless for a set period of time. Designed for workers in remote environments, this feature will offer peace of mind to employees operating alone.  
Remote Camera/Recording: Critical for law enforcement and military applications, operators can access the camera or microphone of a specific user's PTT device. 
Periodic Check: For workers operating in remote locations—including those in construction, natural resource, oil and gas, and certain hospitality workers—this feature sends an automatic message to their PTT device to check-in. If there is no response after a specified time, an Emergency Call and Emergency Alert will be activated. 
Crisis Team:  A user can add other members of their crew to a crisis team, who will receive an Emergency Call in case there is an accident or emergency situation.   
Communication is always key
For many industries, the ability to instantly communicate among groups or with individuals is vital for both operating efficiently and for protecting the health and safety of workers. While some of the technology and the features behind PTT have evolved, these things will never change.