Better team collaboration with cloud-based Instant Messaging, Video Calling, and Conferencing options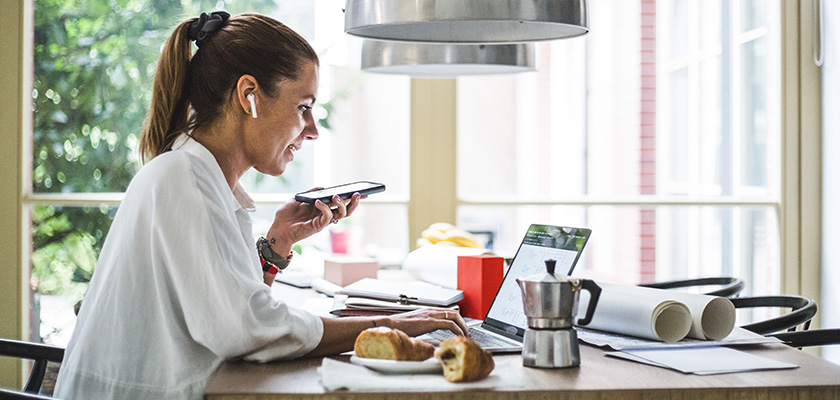 Finding ways to improve employee efficiency is a priority for many businesses. Leaders know that a connected and collaborative team results in better customer service and boosts employee satisfaction. As such, the ability for employees to connect and collaborate from anywhere on any device, whether it's through instant messaging (IM), video calling or conference calling, is becoming critical, particularly for businesses with dispersed workforces.
But almost as important as the functionality of collaboration tools is the ability to keep things simple. Having too many tools adds unnecessary complexity for those who use them—and can be security concern for IT departments. It's better to implement a single, comprehensive solution that gives users what they need for a whatever type of communication they need. The simpler and more accessible a tool is, the more likely workers will be to take advantage of it.
If it seems like every new employee uses a different app and your business is juggling multiple separate communication and collaboration solutions, it might be time to incorporate Rogers UnisonTM as your integrated communications solution.
A business communication system that works in the cloud, Rogers Unison offers a full suite of communication and collaboration tools. Delivered securely and seamlessly over mobile, desktop computer, tablet or desk phone, Rogers Unison combines multiple tools into one simple communications system. In addition to IP-quality telephony service delivered in the cloud, here are three features teams are using for seamless collaboration.
Get instant answers with Instant Messaging (IM)
Adding a standardised instant messaging solution across all employees provides a variety of benefits when it comes to communication and collaboration. Putting the ability to instantly connect with colleagues at your employees' fingertips can improve customer service with better response rates to important questions. For example, questions asked via email can get overlooked and sit unread in an overflowing inbox, slowing down decisions or actions. Using the Presence Status feature with Rogers Unison, users can see when their colleague is available, enabling them to meet quick questions with quick answers. In this scenario, not only does IM speed up and streamline collaborative processes, it can help reduce email volume and improve customer service.
Bring remote teams closer with Video Calling
With more businesses relying on a distributed and remote workforce, finding ways to connect is important. For employees who routinely work from home, it can be difficult to feel a connection to the rest of the staff—especially if most communications are conducted via email.
This is where video calling comes in. Providing a virtual face-to-face option brings teams closer together, whether it's for larger brainstorming sessions, team huddles or one-on-one meetings. Rogers Unison includes both Audio and Video Calling features, meaning you don't need to download any new applications to start connecting from your softphone.
Unlock collaboration with Conference Calling
Having the right people in the room isn't always possible, but Conference Calling from Rogers Unison helps businesses break down virtual walls and nurture a culture of collaboration. With screen and document sharing as well as video calling, this feature keeps all call participants in the loop regardless of their location.
Conference Calling can also be extended beyond your teams. Use this feature to tackle a customer's problem, take a meeting with a potential partner or vendor, or conduct recruitment interviews. Having the ability to turn a two-way conversation into a discussion that includes multiple participants can be a game changer for a company looking to enhance its collaboration abilities inside and outside the office.
Rogers Unison offers numerous other beneficial tools including Auto Attendant, Hunt Groups, Dual Persona, and a receptionist console.
For more information on how Rogers Unison can help your business improve collaboration, contact a Rogers representative.